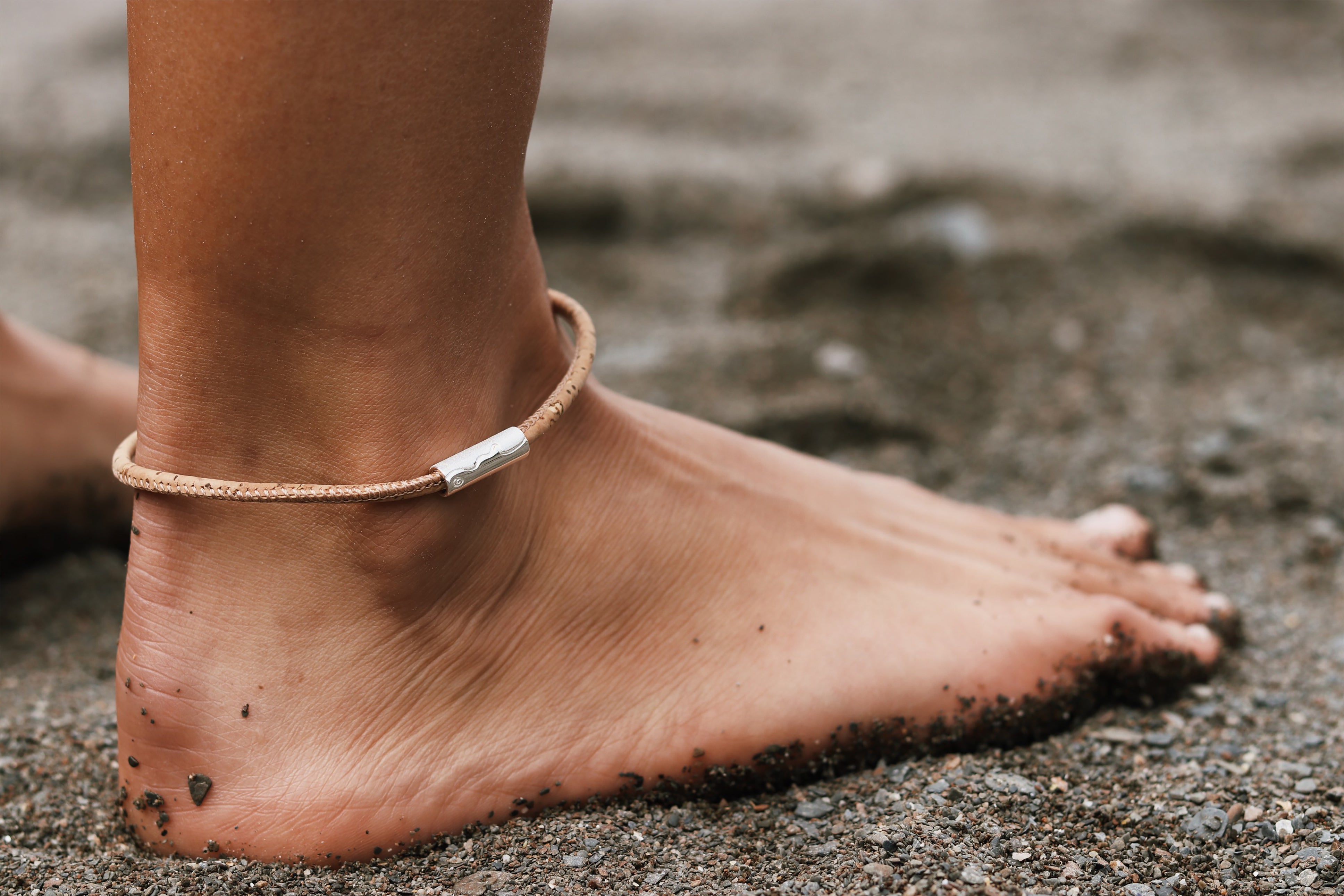 Teal Cork Sea & Sand Anklet
---
Give your feet a treat this spring with one of these limited edition anklets!
These silver and teal cork anklets come complete with a silver Sea & Sand bead and fasten with a silver S Clasp. This gorgeous teal cork has pieces of silver laid onto the surface of the material to give it that extra bit of sparkle! 
The Silver Sea & Sand Bead has been inspired by shimmering glassy seas contrasting with the texture of the golden sand beach beneath your feet whilst strolling along the lapping shoreline. One side is smooth and polished with the word 'sea' and our Nalu swirl engraved representing the sea whilst the other side has been brushed with the word 'sand' and our Nalu swirl engraved.
The complete length of the anklet is with the clasp is 24.5cm but please contact us if you would like one made to a bespoke length for you.
Please note that this cork cord is a completely natural material that may wear over time. It has been died use eco-friendly dye that may also fade with wear. Each piece of cork will be entirely unique.
Cork & Leather Carrier Details

Our leather & cork carriers have been thoughtfully designed in our studio in North Devon.

These leather & cork carriers come in a variety of sizes and then needs to be attached to one of our clasps (sold separately).

Due to the nature of the straps of these bracelets being glued into their ends, we only recommend a maximum of three beads to be worn at any one time. If you would like to wear more beads, we recommend choosing one of our silver chain bracelets instead.

They are compatible with all our silver and glass beads and have been designed to fasten with our silver clasps (sold separately). Simply unscrew the end engraved with 'Nalu' to add your desired beads.

Our bracelet carriers are available in 17cm, 19cm and 21cm; the anklet 25cm; this is the length of the carrier NOT including the clasp.

This is a natural product so we do recommend that you don't wear it in the water as it will weaken and break down the leather! Please keep clean and dry and check regularly for signs of wear and tear, Nalu cannot be held responsible for loss or damage of beads/bracelets/necklaces.